Digital Services
Virtual Groups
Our patented Virtual Group™ process creates group photos from individual images for groups small and large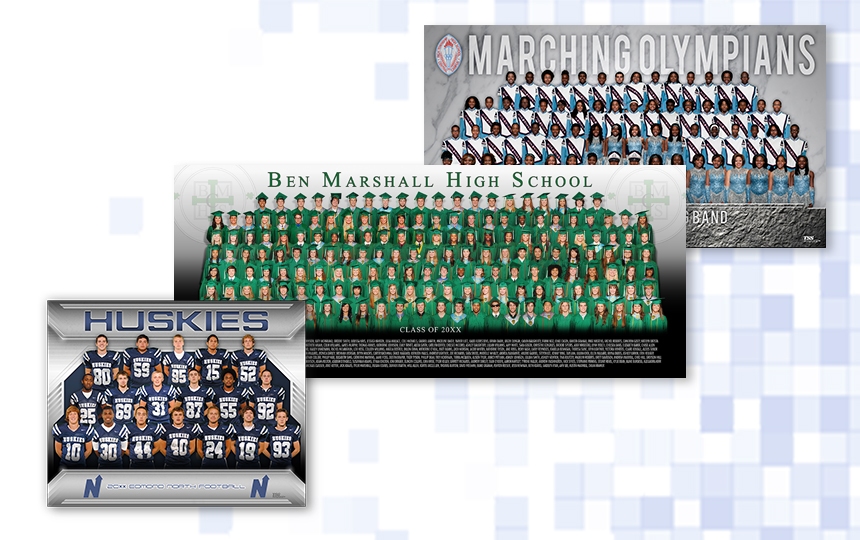 A modern solution to group pictures.
Our patented Virtual Group™ process creates group photos from individual images for groups small and large!
Whether it's a team of 8 or a graduating class of 300, CCS has a design and layout that will work! Photograph subjects using our TKO service or chroma-key for an extremely cost-effective and FAST product. Customize our designs with logo, team/group name, colors, year and mascots! You can also add individual names at the bottom of the image at no extra charge. (It's super easy with our builder in CORE!)
Virtual Group Advantages:
Can open doors to more portrait opportunities
Are a great booking tool
Do not require much space or time
Do not require field, court & rink time
Ensure that every subject is in focus
Allow consistent head-sizing
Ensure each person is equally visible & smiling
Plus, the group doesn't even need to be together at the same time!
Standard print pricing applies. Virtual Groups™ can also be used in products such as memory mates and to create amazing banners. Turnaround time is typically 24 hours. Additional time during peak season (mid-May) may apply.
Plus, you can provide your own custom group background at no additional cost.
Open an account
Get started today!
Learn what Candid Color Systems® can do for your photography business
Open an Account