Digital Services
TKO & Green Screen
We offer more than just cutouts for green and blue screen. Our innovative software solutions deliver the ability to dynamically display backgrounds in finished products for mobile and desktop eCommerce.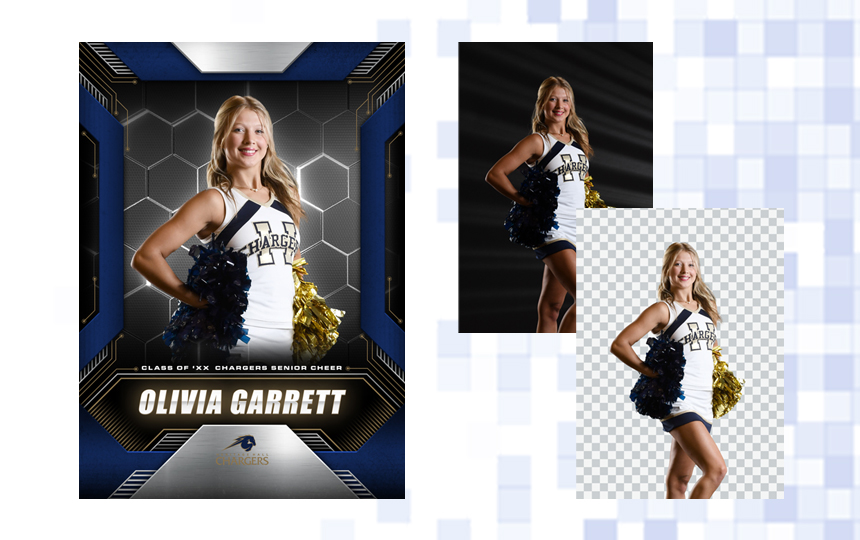 Total Knock Out
The perfect chroma key alternative. Get cut outs without green screen in MINUTES!
This service will cut out your images from a traditional background. With TKO there is no worry about green spill, reflections (from sequins or instruments) or problems with teams wearing green & blue uniforms. This service also works wonders on full-length images and curly, frizzy and blonde hair! Plus, this service is FAST. Get cutouts within minutes so you can use your images to make sales onsite or send instant links to personal galleries for e-commerce. Use the cut outs in CCS' virtual group, premier products and more!
Our Chroma Key tools will give you quick & cost effective cutouts for green and blue screen images and amazing sales options.
We offer cutout or extraction services for images taken on chroma key blue or green backgrounds. When using our suggested settings, images are "knocked out" and backgrounds can be added. Both the original image (with transparency) and "rendered" image (with a background added) can be shown to consumers using our eCommerce site. Our Ecommerce platform will also let your customers choose their backgrounds and see the finished image dynamically created for them online.
Speedy turnaround is important to us.
Cutouts using the correct settings are typically available as transparent images in CORE within minutes for online sales or image & order management. Wait times could be longer in peak season (mid-May).
Customers can schedule bigger jobs to ensure turnaround times.
Turn one image into multiple products by adding different backgrounds.
We offer a vast library of background choices. Our Dynamic green screen tool allows consumers to pick from hundreds of backgrounds in our eCommerce platform. This process is also mobile-friendly! Photographers can also load any background they like into the eCommerce platform or use our pre-rendering option to add backgrounds before uploading images for sale online.
open an account
Get started today!
Learn what Candid Color Systems® can do for your photography business
Open an Account